Group News
Kuntin Group Completes Another Upscale Build to Suit Project for Multinational Companies
发布时间:2020-05-11 16:01:37信息来源:浏览量:4842
In February and March of 2020, during the difficult worldwide situation caused by the coronavirus pandemic, Kuntin successfully landed top American and European enterprises to settle in the Kuntin Pinghu Intelligent Manufacturing Park such as: The Fortune 500 Lear Corporation, well-known automotive accessory manufacturer MATA, and the leading German Textile machinery manufacturer Trützschler Group.
This is the first industrial park developed by Kuntin Group in East China, and just shortly after its completion in 2019 it has achieved the dazzling achievement of being 100% occupied by wholly-foreign owned enterprises. This accomplishment fully proves the industrial capability and brand strength of Kuntin to serve large multinational companies!
Shortly after, in April 2020, the Finland Metso Group Jiaxing production center customization project was successfully completed in the Jiaxing Economic Development Zone, adding another contribution to the Kuntin Group's high-end build to suit business. This is Kuntin Group's first high-end build to suit project in East China, and it has also become a model and benchmark for Kuntin Group's tailor-made projects in the Yangtze River Delta region. The combination of Metso and Kuntin to achieve implementation in the Jiaxing Development Zone has important and far-reaching significance for promoting local economic development, driving industrial upgrade, and attracting more high-quality European and American companies to invest in the development zone.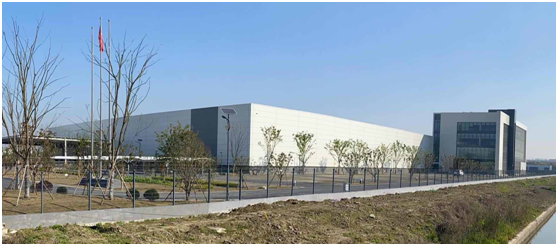 Metso Factory Exterior (R&D Building)
Kuntin Group is a leader in the field of upscale property customization for multinational companies. Backing the brand image is Kuntin's rich and extensive experience of over 15 years in providing customized carrier spaces for the world's top 500 companies such as ABB, Amazon, GE, Cummins, IBA, Japan KDDI, etc. Due to its reputation as the starting point for high-end parks and outstanding performance, multinational companies constantly choose and trust Kuntin and its characteristic upscale build to suit model.
Finland Metso Group (Metso), headquartered in Helsinki, is a world leading engineering technology company with a history of more than 150 years. It provides first-class equipment and comprehensive solutions for the construction, energy, mineral processing, pulp, and paper industries, and has more than 27,000 employees in more than 100 countries.

Main Entry
In 2018, Metso decided to choose Kuntin as the investment and operation service provider for the fixed project in Jiaxing after several rounds of research, comparison and selection. The project covers an area of 41,800 m2, with a total investment of about 38 million US dollars. After the completion of the project, it will mainly serve as a new fluid control valve production center for Metso. Kuntin provides the project with full-process services from design planning, land acquisition, construction, delivery and leasing, and ongoing operations.